I got some 670+ shares and 860+ clicks for my content using Missinglettr.
All that in a month. For any blogger, that's enough to go "Yayyyyyy!"
Honestly, those numbers are not bad for a brand-new website. Especially when there is no other blog promotion strategy in place.
But wait…
860+ clicks?
670+ shares?
Awesome!!
But how much time do these visitors spend on the website?
Who were these shares and clicks from? Were they genuine users or bot accounts?
If you're curious to know the answers to these questions, read this Missinglettr Review.
What Made Me Share

Missinglettr Reviews

?
Like you, I too recced the web for Missinglettr reviews. Back then, I couldn't find any reviews that were candid. So, now that I've hands-on experience with the tool, I thought of writing this guide.
Also, now this gives me an edge over other reviewers (probably). Because I'm reviewing the tool after using it. The reviews that I see on the web, seem more like blatant promotion than honest reviews.
For instance,
I've not checked recently, but when I was researching for Missinglettr reviews, not a single guy mentioned lifetime deal Missinglettr coupons, More precisely, Missignlettr Lifetime Deal (LTD) coupons. As many of you would know I'm a small business consultant, and so on my shoulder lies a crushing responsibility of recommending the best marketing automation tools, at affordable prices.
Hence, sharing a good honest review sounded sensible to me. My bad, when I was contemplating buying Missinglettr, not many reviewers shared the coupons and lifetime deal coupons :/
Yet, I found a deal.
If Missinglettr LTD is what you're after too, let's cut to the chase, here's your MissingLettr LTD deal for just $49 (lifetime deal).
You won't find it cheaper anywhere else.
But this Missinglettr lifetime deal offer is only available until November 30, 2023.
So, if you've decided to purchase, then Buy it right away. Or miss the deal and regret the same.
This is because the offer is only available during the Black Friday & Cyber Week deals days.
Waiting until next year's Black Friday Deals (with no guarantee that Missinglettr's LTD will be available next year too) is not sensible.
However, if you're not here for the Missinglettr lifetime deals but for Missinglettr Reviews, continue reading this blog. Especially, read the sections where I review the two best features of Missinglettr–
Apart from those two

Missinglettr features

, I've also covered-
If you're completely new and have stumbled upon this Missinglettr

reviews

blog, you would want to read the following as well-
Missinglettr Review- A Primer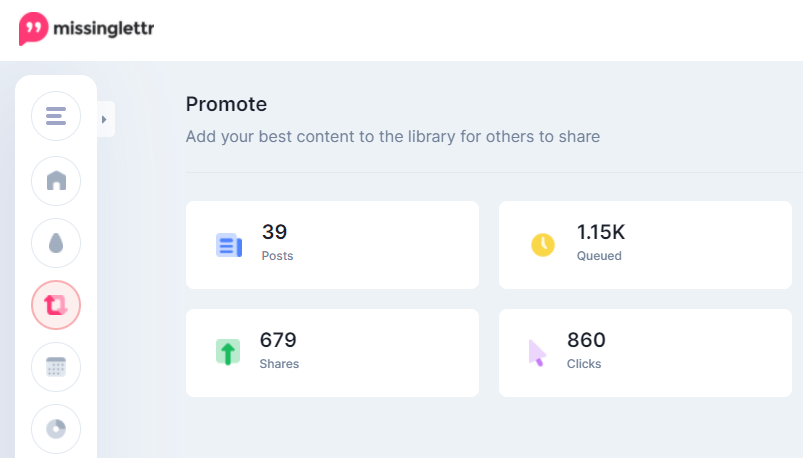 In the starting days, I felt impressed with the results I got from the Missignlettr platform. You can see the number of shares & clicks the tool yielded for my website. This you would get under the Missinglettr's advanced analytics dashboard. 
But there is more to the tool than what meets the eye. Some negative, some positive.
In the initial days, there were multiple aspects of this content distribution & social automation platform that impressed me. But the overall outcome in terms of clicks, shares, and visibility was the ultimate heartwinner. Especially, given the fact that this was the outcome of promoting just 39 of Growthromeo's posts using MissingLettr Curate. But with time, I found out that not everything that glitters is gold. Especially, for Missinglettr Curate. Click here for a detailed review of Missingglettr Curate.
How to promote content on

Missinglettr

the right way?
Use the "promote" feature, which is part of the Missinglettr curate. Then sit back, sip caffeine, or read more of my content to gain traction on the web and social media.
Also, having clarity about what results you want to drive from the platform helps in devising a proper strategy.
For instance, my initial focus was to establish/gain social traction. Missinglettr as a social media automation tool turned out to be the perfect software for that at the moment. But not all shares were genuine. Most of them were from dead accounts. Will share more about it with context in the respective sections.
There are tricks, hacks, DOs, and DONTs to get the most out of Missinglettr, which is a content curation and distribution tool.
Is Missinglettr the best tool for content promotion?
After trying it thoroughly. I'd say "No."
In fact, it is far from the best.
But yeah, it's a good affordable tool for beginners if you can successfully bag it at $49.
What to expect in the upcoming section?
This review will cover the pros and cons of Missinglettr. 
I'll give you a thorough demo of how Missinglettr works.
I'll explain 3 core features of the platform: 

Organic influencer marketing feature- Missinglettr curate
DRIP campaign marketing automation feature- Missinglettr campaign 
Social calendar automation feature- Missinglettr schedule

I will also give you a downloadable checklist of best practices to automate your

content distribution

with Missinglettr.
By the way, if you're keen, check out our collection of marketing business ideas to start in 2024.
What's Missinglettr?
Missinglettr is a Hampshire based SaaS organization. They promote themselves as a marketing tool to "grow your social presence". That's what their brand tagline is on LinkedIn.
And their website's first screen says – "grow your brand with the content you publish". They also say that Missinglettr would help you find the best influencers in their niche. 
I'm a marketer, and so am gonna review their brand taglines now. You can skip this or continue reading to gain some marketing perspective along the way.
Now the two brand taglines of Missinglettr (though very same) could be confusing lines as "grow your social presence" & finding best niche influencers can mean a lot of things.
Grow your social presence can mean-
Content creation

-hashtag research, content research, trending topics, backlinks, and so much more.

Content curation

resharable quality content from brands, no-copyright images to be used in your content, statistics to quote in your blogs, etcetera

Content distribution

republish on different channels, distribute over email, social media, influencer marketing, and so on.

Audience management

communicate, block, mute, disconnect, etcetera

Social Media Automation

Plan, schedule, curate your social calendar, create automatic shareable posts from the blogs you write or the content you publish, and everything in audience management including replying to comments from followers/non-followers on your posts.

Social Media Management

It's a mix of "manual + automation" for handling your social media activities / campaigns.

Content Management

It's a broader keyword in the marketing world. It can mean managing your social, blog, and website content as well.

Content Marketing

"Everything we discussed above + Search engine optimization + Search engine marketing + social media marketing". It includes both organic & inorganic marketing.

Social Media Marketing

It's the same as social automation, but also includes paid ad campaigns, hashtag campaigns, social contests, content creation & curation for social media, social content calendar planning & content distribution on social channels.
Similarly, finding niche influencers can mean having a mechanism to control the engagement we receive from influencers. It can also mean a marketplace to find and collaborate with influencers. But Missinglettr is less about marketplace for influencers and more about voluntary engagement from influencers. We can't go for paid engagements for influencers on Missinglettr.
This platform can be labeled as an organic influencer marketing platform. But that too would be meaningless, because there are no filters to who is promoting your content. I've seen people from my niche with followers as low as 20 using the platform, and I've seen people with as many as 200k followers using this platform. Okay, do not judge me, but that guy with 20 followers is me 😀 I've a very small knitted circle on Instagram.
But is

Missinglettr

really an all-in-one social marketing platform? Like how they wrote on their website..
If you need my opinion/review, Nope, Not yet. But they are continuously developing their platform to be an end-to-end, all-in-one social marketing platform in the future. And yeah, I have to admit that for the money they charge, right now, they are definitely a hot buy. They are offering a lot of value then how much they charge money. I wish they never increase subscription prices in future 😛 
Anyway, here's
what's Missinglettr
according to me:
Missinglettr is an economical

content curation marketing tool

to

keep your social calendars jam-packed with quality sharable content

for your audience. The content could be from your blog, or it could be curated from what industry peers are publishing. For those who don't understand what content curation is,

the process of sharing content from different sources other than the ones you produce or own is called

content curation

. So, if Amazon promotes Walmart's content, it is an example of content curation.

Missinglettr is a smart

content distribution tool

for

enabling content marketers to reshare their blog

or multimedia content on social channels with increased productivity, agility, and insight into their performance in terms of shares/clicks etcetera. It also allows you to republish on Medium. The Missinglettr team seems to be working on more integrations with other content marketing platforms and tools to actually be an end-to-end marketing platform (as they say on the home screen).

Missinglettr is not just any content curation & marketing automation tool, but a

smart marketing analytics tool

as well, with

rich data insights, performance analytics, and actionable/ digestible data visualization

.

What are the main features of the Missinglettr platform
Drip Campaigns, Missinglettr Curate, and Social Calendar Schedule are the three major offerings from Missinglettr for your content team to flawlessly distribute content. In this Missinglettr review, I'll cover each of these in detail in the next sections.
Organic influencer marketing

feature i.e., Missinglettr curate, 

DRIP campaign

feature i.e., Missinglettr campaign, and 

Social calendar automation

feature i.e., Missinglettr schedule 
What are content curation tools or platforms?
Before you go for the demo of Missinglettr's Curate functionality. We need a thorough understanding of 'what is content curation?'. 
Let's understand content curation with an analogy- 
You're a fruit seller who serves healthy relish-worthy fruits from your garden to your audience. Now, you can be the best producer of one fruit, or maybe two. 
But your audience needs all sorts of fruits, including some that you do not produce. 
How do you serve them with those varieties of fruits? 
Ideally, you would either start producing it (not a scalable approach unless you have a lot of money, expertise, and resources to burn). 
If you are tight with money, a better approach could be to source it from your peer horticulture practitioners. With this approach, you'll meet your client's needs. Your clients will stick with you as they would definitely appreciate that you're hustling for their comfort. 
As a result, over time, your clientbase and your fruit sales might even spike up. 
How amazing would that be?
Now, how is this fruit seller theory related to content curation?
In the content world, you're selling your knowledge in the form of blog posts (fruits = knowledge). And you share your knowledge in lieu of either the client's time, or both 'time and money'. 
But often it is seen that your knowledge (fruits that you produce) is limited to your niche (fruit-varieties), or a few niches that are interrelated. 
You might think, so what if I produce limited content? I'm best at what I do. My clients would keep coming back to me for the value I provide. 
True. They will. 
But your clients need info and help around all the things that may help them grow their business. It might be related to the services/products you provide, or may need help beyond what you've expertise in. And in search of that, they will keep wandering around looking for other service/product/solution providers (fruit sellers). 
And content curation could be your opportunity to bolstering relationships with clients
I know, you are aware of the fact that your clients are looking for solutions beyond your focus area. Of course, it would be a case of over-expectations, if your clients seek anything from you other than your core business offering. But trust me on this, most of us are always ready to compromise a bit with quality of products or service if the overall offering size is huge, or if the savings is huge on a deal. And the only thing that can beat this inclination towards 'the more benefits' is personal relationships. It could be a one-to-one personal relationship with the person (maybe salesperson), or personal relationship with the brand. 
An example of the power of personal bondings in sales
I would definitely buy a branded apparel with a small negligible flaw if I get two at the price of one. I would let go of the deal where I get flawless apparel at its original cost. 
But I would pay a premium to buy from a store where I've developed personal bonding with the store manager or sales person. I would let go of the brilliant deal of two flawed products even if I get them at the cost of 1. 
Using content curation to build personal relationships with audience 
The last example works for the content as well. And I'm sharing Missinglettr review with an intent to enable you to build relationships with your audience through content curation. How? 
Most people out there care about the timing of the information more than the quality of the information. 
For example, I would have wanted to know about the buzz around Bitcoin (even if it was of poor quality/coverage) back in 2011 than the quality coverage in 2014. You too would agree with me, right? And this need for timely content keeps us looking for more on the web.
This is exactly why you should collaborate with other content publishers (fruit producers/sellers/farmers). 
You can share the content they publish on their blog and push it to your audience/client-base using Missinglettr curate. 
This will help you in

building personal relationships

with your audience. 

Also, it would present you as

someone not afraid to promote competitors

or industry peers. 

You will be perceived as confident, and this would

build trust in your services/product

.
But yeah, the execution of content curation strategy should be flawless. Else, it could fire back. 
The next question is how do you share curated content? 
Share curated content with "Missinglettr Curate"
You can share curated content using-
social-media, 

emails, 

newsletters, 

shout-outs in podcasts, or 

link from within your blogs. 
This process of sharing content from different sources other than the ones you produce/own is called content curation. 
And Missinglettr curate, which I'll review in upcoming sections, is awesome for content curation. Using Missinglettr curate, you can share the content from your industry peers, or from industry verticals that are valuable to your clients. 
Also, you can put-forth your own content for other content curators to share with their respective audience. I'll explain how you can do that in the Missinglettr curate review section. For now, know that Missinglettr curate helps you with both content curation, and organic influencer led content distribution. In fact, the image you saw at the top, with a screenshot of shares & clicks I've received is because I put forth my content so that other influencers can share it. And the results are really good. Else, I am a very critical person and wouldn't be giving a positive review for Missinglettr.
What content should you

curate with Missinglettr

?
A word of caution, only share third-party or partner content if it is going to help your audience. Many share third-party content just to keep their calendars busy.  In desperation, I too fell prey to this in my early days of marketing. 
But with experience I learned, this is a self-harming behavior. 
Don't share any content which is not intended to either entertain, help, or build relationships with your audience. If a third party content is entertaining enough, solves a problem for your audience that you're not solving, or bolsters your relation with your audience – then it is worth sharing.
I know these sub-sections are not directly related to the Missinglettr review. But you need awareness around these learnings, else tomorrow you or your team would do things in the wrong way, use Missinglettr in the wrong way, and blame me for convincing you to buy it. To avoid this, I've tried my best to bring to your knowledge everything that I know about the platform in the Missinglettr review, and then leave it up to you to buy it or not buy it. 
How

content curation

helps your business grow?
To summarize the benefits of content curation (with or without Missinglettr)-
It solves your audience's challenges/problems (most important outcome that you should focus on!)

It bolsters your image as a brand, position yourself as a thought leader

Builds visibility, brand loyalty

Boosts your social presence & engagement

Keep your content team always oiled-up, content engines should never stop!
Why do you need a content curation tool like Missinglettr?
If you ask me, why I use Missinglettr as my content curation & distribution tool, I would say:
it fits my pocket,

helps me in my short term content distribution goals,

besides, Missinglettr helps me automate social sharing of my owned content with drip campaigns, 

gives my content the visibility it needs on social media with influencer engagement,

Also, Missinglettr helps me discover and curate insights that my audience might find of value. 
…and that's all I need for now 🙂 
So, I use Missinglettr, and added it to my pool of content marketing & automation tools. Before we discuss Missinglettr's pricing & plans, I'll give you a demo of the Missinglettr platform. That's the best way to review Missinglettr. 
I'll demonstrate how to use the top three features of Missinglettr – Curate, Schedule, Drip campaigns. And this demo would give you a fair idea if this marketing automation tool is worth investing into.
Getting started with Missinglettr marketing automation tool
As we have already mentioned in this article, Missinglettr has three major offerings – content curation, content calendar schedule, & content distribution i.e., DRIP campaigns. I'll demonstrate them now. But it's better if you try it hands on with me. It's going to be super easy. Don't worry. Marketing is easy if your basics are clear. 
And the basics of marketing means it is-
86% psychology, 

2% content, 

2% strategy, 

7% distribution & execution, and

3% flexibility.
Anyway, let's start with the demo. 
Register/Sign-up with the Missinglettr platform
As I said, I believe in reviewing any software by giving its demo. I'll do the same for the Missinglettr review. Also, I believe the best demo is when the person taking the demo is having a hands-on session. So, go ahead, and open the above link in a new tab. Again, don't worry it is super easy, and will be real quick.
Step2:
Click
on the
Sign Up
Button at the top right corner. It takes you to the following screen:
Step 3:
Fill
in the following form details to complete your
Missinglettr pro trial signUp
process.
Don't worry, MissingLetter provides a 14 days PRO trial to new users. 
First Name, 

email Id, 

Team Size, 

Industry that you work in, 

your phone number, and 

enter a new password that you would like to login with from next time onwards.

Also, don't forget to check the

terms & services & privacy policy

box. 
Note: You may consider reading this privacy policy based on your company size, and esp if you have a dedicated legal team. I guess that's what they are hired for, to ensure compliance, and safeguard against any legal aspects. Well, in my case, the TnC, and privacy policy conditions are totally in-line with the organizational practices. 
Step 4:
Add
brand details like your brand name, logo, color, etcetera.And click Next.
Step 5:
Select
your reference timezone for scheduling/sending/triggering social posts.
I chose Europe because Russia is creating tremors felt in Kiev at the time of writing this. I don't like war at all, I am a peace loving person. But still..
Step 6:
Choose
any of the following six themes and click on next.
These Missinglettr themes are handy when you want to schedule posts as a quote to publish on social media. You might need to scroll a bit to find the Next button here. Going left to right, top to bottom, I like the fourth one. Because this is an honest Missinglettr review, as an audience, I would say the first and second quote style su#ks.
Woohoo!!
Before you realize, you are done with the sign Up!!  No cards! YOu need nothing for the Missinglettr pro trial. 
Missinglettr Trial is absolutely frictionless! And so is the platform post trial. Friction is missing from this platform 😉
Missinglettr dashboard
Now, it's time for a trip to the Missinglettr dashboard.
When you click on the "Take me to my dashboard button", it will take you to the dashboard, of course. Do notice the CTAs they use for the buttons, it's actionable, and personalized. I know, I'm supposed to review Missinglettr, and not the copy. But I'm assuming you too are a marketer, and it's always good to brush up the marketing basics. 
Anyway, upon clicking the dashboard button, you'll get a pop-up, asking you to watch an intro video. You can choose to close it, or watch it. Totally up to you. You may also click next on the video pop-up to get a quick overview of icons that take you to Curate, Social content scheduler, DRIP campaigns functionality pages respectively. 
Anyway, I am assuming you clicked close, or watched all 6 suggested steps of the pop-up. After you're done with that, this is the screen you would see.
Now the real Missinglettr review starts.
Things to take note of on this screen-
You're under Missinglettr

pro-trial

right now. This would end in 13 days. You can upgrade anytime by clicking on Upgrade now.

Missinglettr also orga

nizes a webinar to educate its users on how to use the platform, you can register for it using the register button.

You see a few icons on the left. The topmost i.e., the one with three lines is called

hamburger icon

. The hamburger icon helps you switch your workspace. Now,

what's a workspace in Missinglettr

. Suppose right now, you have registered on Missinglettr with an organization called XYZ. So, XYZ is your current workspace. You can add more Workspaces. In trial, or under pro plan, you can add up to 3 workspaces. This is useful if you have multiple companies who you wish to promote. Also, it's quite handy for digital marketing agencies, and freelance digital marketers. Other icons I'll explain in the respective sections of the

Missinglettr review

.

Lastly, the main section of the screen shows you 4 actionable setup items. You need to complete these for your profile to be completely set up & enabled to promote & schedule your content, or invite influencers to curate & share your content. You may also curate content from other industry publishers and share it on your social media. But two of these four setup steps are the prerequisite to unlocking the full potential of Missinglettr. 
Completing the next sections is important to follow this Missinglettr review and demo. 
Missinglettr initial setup
1.

Connect

your social accounts with Missinglettr
Let's get started with the Missinglettr setup! Click on the setup next to item 1 i.e., "Connect a social profile". When you click on this setup button, you'll get the following screen:
In my opinion, connecting a LinkedIn Profile, or a Twitter account is the simplest one. So, I recommend proceeding with the same first. I'll connect my LinkedIn account to Missinglettr for the demo. 
Enter email, password to sign in. Next, it will ask you for permissions to post on your behalf. Allow it and proceed, the account will be connected. You can repeat the same for Twitter as well. If you are connecting to your LinkedIn page, just choose the target linkedin page that you own.
Adding Instagram account to Missinglettr
Adding an Instagram account to Missinglettr is a bit tricky. To add an Instagram account, your instagram handle must be of business type. If it is a personal instagram or creator instagram account, you won't be able to connect it with Missinglettr. Only Instagram business accounts can be connected to Missinglettr.
And there is one more condition that your instagram business account should be mapped to a facebook account. This would further stretch the article, so I'm skipping this part, but if you need a detailed blog on that, drop a comment, and I'll help you. Maybe, I should add that as a curated content on my social channels to help my audience 😀  
I've connected multiple profiles for my account, a total of 5 social accounts, but my plan allows me to add 9. If you click or hover over to "My account" at the top of your Missinglettr home screen, you will get a dropdown like the below one:
Here, if you click on My account, it'll take you to your profile dashboard where you can see details on your active plan, upgrade it, see the status, add cards & payment methods, add business & VAT details, check your invoices, purchase add-ons, etcetera. But again, detailing these out would unnecessarily stretch the article. So, I would stick to demonstrating 3 core functionalities of Missinglettr. 
For me, the plan features section on the My Accounts page looks like this-
Things to notice- 
I'm on a pro-plan (Monthly).

I've added one workspace (GrowthRomeo).

I've added 5/9 social profiles. Because that's my max use-case.

I've scheduled 21/3000 posts. Because I like scheduling my social calendar for only a month in advance.


Curated posts are 0/10. I can curate 10 posts as per the PRO plan, and I just scheduled 5 yesterday for this month. Not sure why it's not updated, usually the data is well synced but maybe this time there is some issue. Soon, in the next sections, I'll show you how to curate content, and how to promote your content.
2. Setting up a Content Source on

Missinglettr
Click on the second actionable item on the home screen-
You can add a Youtube channel as a content source, or a RSS feed of your own website. To add RSS feed, you can click on the respective item, enter the URL of your RSS feed, and click on the Add Source button, and bang! It's done. 
In 10 minutes to 1 hour, Missinglettr will fetch all the items from the defined content source. I'll show you in a while how it looks. I've added my blog's RSS as the content source. You can add any of the 3 options it provides.
3.

Schedule

your first social post.
This section let's skip, right now. We'll go in the proper order step by step to keep any confusions at bay. Let's first get done with step 4 and then we come back to this section.
4.

Setup

your Missinglettr curate profile

When you click on the Setup option here, you'll get the following pop-up screen:
Here you need to add categories. Make sure you choose 3 categories that your business is related to. Because then, every time you add content for influencers to promote, you won't have to choose categories. Same with tags and topics. Choose 3-5 tags that your content would be related to. If your content is going to be very diverse, still choose 3-5 tags. You can customize these for each post later. Right now, choose the tags & topics of highest priority to you.
For language, choose your preferred/target language. In my case, it is English. For 'Countries I'm based in', I would target the country whose influencers I would want to target. For media types, by default all four are selected, but I disabled Videos and Audios as I only wish to promote blogs as of now.
In additional settings, I unticked promotional posts, and ticked Restrict suggestions to only https secure links. This is to ensure I share only safe articles. 
Click on save.
Done! We're done with the setup. Step 3 is still incomplete, but that will get automatically covered when we discuss the scheduling feature.
Now, with setup hindrances out of the all we got to day is promote content like a maniac… wooo! Woooo! Woo! But yeah, maniac doesn't mean directionless promotion, we shall have a proper content promotion strategy in place. Content promotion strategy includes the content, of course, the timing of the share, target country, choice of categories, choice of hashtags, choice of language, and so on.
DRIP Campaigns with Missinglettr
Short review of the Missinglettr campaign– 
Missinglettr Drip Campaigns are brilliant to fetch content from your blog/youtube

It schedules your weekly, monthly, two months, quarterly, half-yearly, and yearly content in a blink of an eye.

But as I promised, here I share the first con or not so impressive feature of the Missinglettr review.

The hashtags Missinglettr campaign pulls from the content are not that great.

The text body-content that Missinglettr campaign selects from the blog is okay-okayish.

Missinglettr campaign fetches all images from your content source to build the campaign. It's a good plus point. You do not have to upload every single image.
That's my review of the 'Drip campaigns' feature in Missinglettr. Now, try it hands on to get a hands-on experience. 
Click on the second icon in the left navigation panel. If you've not set up a content source, you will see the above screen.  Click on add content source and refer this section in the blog to follow. 
If you have added a content source you'll see a screen as follows-
If you're not on a pro plan, you will see an option to upgrade at the top navigation bar, and your screen would look slightly different. Otherwise, if you had added a content source, Missinglettr would fetch all the recent blogs/videos from your content source, and keep them in drafts. 
You have to click on "Drafts" to open the drafts tab. 
By default your "Active" tab will be open. 
Your active tab will have zero items in your panel at the beginning. 
Drafts count will depend on the number of content items sourced from the content source that you added. In my case you can see it is 31. 
Under drafts, if you hover onto any of the items, you will see a setup campaign button on the right. Click on it.
You can also setup a manual DRIP campaign by clicking on the + icon at the bottom right.
Now, as you can see-
Missinglettr automatically planned your 12 month social content calendar for this post.

Missinglettr smart tools fetch a number of hashtags, images, and quotes from your content source item.

Hashtags – Use the hashtags, your audience would be following.

Images – Only choose the media that scores well on aesthetic scale.

Quotes – Customize the quotes to be meaningful and helpful to the audience. Keep the character limits as per different platforms.


You can also see the profiles that will be used to send out this campaign. Hover over a profile to delete it from the campaign list.

You can click on Hashtags, Media, Quotes etcetera to customize what gets sent out in the campaign.

You can also customize campaign start date, stop date, etcetera


To customize the span between two shares, you can head to the settings to build a template for date-gaps between campaign publish dates.

Also, click on the confirmation that it is your content, if it is yours.

These are intuitive features and you shall find it a breeze to deal with.

Lastly, click on the build campaign at the bottom. And bang! Your campaign is up.

Now, your campaign is ready, but if you had not unselected quotes while setting up the account, you might face a few problems where the content will look as ugly as the one above. If you have quotes disabled, and if you did things right in the last step, then blindly you can build the Missinglettr DRIP campaign. Anyway, you can always post-perfect your campaign by customizing using the following buttons in post previews that you see after clicking on build campaign in the last step.
The final step here is to click on the 'Launch Campaign' button towards the bottom left.
Here's how it would look, if all goes well-
This was about promoting your own content.
Now, let's explore the "curate" feature of Missinglettr platform.
Content curation & Missinglettr review!
Here's my missinglettr review for the curate functionality:
Missinglettr is a

two way sword

for content curation.
You can discover content from industry peers to share on your social channels. These content pieces would be related to the hashtags you added earlier while setting up your profile. It's a plus point. But what I do not like is that Missinglettr can also work as a content aggregator platform like "hacker news" sort of. This would give us more options to share content. I understand this could also mean less engagement for publishers with only 20 followers. But I would cut review points of Missinglettr for this missing functionality.
My favorite part of the Missinglttr platform is the Curate-promote feature. Here you can upload your content, and other members of the platform (call them influencers) can share the content on their social channels. It means free shares for you. This is what convinced me to write this review. I felt this tool could be so useful for new businesses or publishers. And so, I decided to write a Missinglettr review.
Again, a review that does not bring out negative sides or cons is not really a review. In this Missinglettr review, I've highlighted a few cons, and here's another shortcoming of the platform.
Though it is not a major problem, a lot of people on Missinglettr are sharing curated content from fake profiles on Twitter, Linkedin, Facebook, Instagram. This leads to what's called false positives. Until recently, my posts were getting shared but not receiving traction. Average time spent on my blogs from the Missinglettr traffic was 29 seconds. Pretty low. But then I tweaked a few of my Missinglettr settings, and soon the average time spent was peaking at 6 and a half minutes. So, Missinglettr curate is very sensitive in terms of audience. Target carefully. Else, you might be getting too many false positives.
How to use Missinglettr as the content curation tool?
If you click on the curation icon on the left vertical navigation panel, you'll be taken to the 'discover' feature of 'Missinglettr Curate'.

If you hover over to any of the blog items, you will see a share button.
Click on the share button. In the next screen, you can edit & schedule the post. 
This was about sharing/curating someone else's content. 
Now the second side of the sword is making your content available to be promoted by others.
You can do this from any screen by clicking on the + icon towards the right bottom corner of the screen. Alternatively, you can click on promote feature, and press on the + icon. 
After you click on + icon, you get two options to add an external content, or promote an external link.
Make your content available for curation using previous campaigns in Missinglettr:
If you click on "content from a previous campaign", you'll get a list of campaigns you built in the past. For example, I just built on the marketing business ideas as part of this demonstration. And it is available to be promoted with curate as well.
I chose manufacturing business ideas, and clicked on one of the 9 posts that I had scheduled. The post got auto composed to be promoted under Curate.
Click on the publish button towards the bottom right, and your content will be in the pipeline to get promoted on social media.
You can also make content available for influencers to share on their social media, by clicking on "add other external content".
This time you'll have to add every minute detail, like
Add a title and url:

Scroll a bit, and add categories, tags, & topics

You can also choose language and countries

You can add the post body-content here and use the icons in the right corner to add image or multimedia:


Click on the

Publish button and it's done!

Yayyyy!!!!!!! 
We're done with the second feature of the Missinglettr platform. You can click on the back to the dashboard and check performance for your curated posts, or you can add 9 more curated posts. 
In Pro plan you get to promote 10 posts under Curate. That means, you can add 10 of your posts that will be shared by influencers. After discussing the content calendar schedule, we'll discuss the Missinglettr pricing & plans as well. Stay tuned.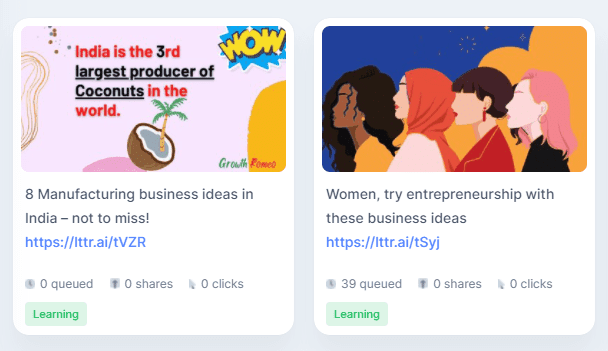 Social calendar schedule using
Missinglettr content marketing automation tool
This is very simple, and the last part of the Missinglettr review. You're already a pro now for building Missinglettr social campaigns. But just for complete platform acquaintance, click on the Schedule option in the vertical navigational panel on the left. 
If you haven't scheduled anything, your calendar will look dumb and empty like the below one. Use the plus icon on the extreme bottom left, to add new content to your social calendar.
You'll get two options:
Add curated content

Add original content
Irrespective of the option you choose, the process of creating posts remains the same as explained in the content curation post creation section.
Once you have populated your calendar, it will start reflecting, and will look alive. In Pro plan, you can schedule up to 3000 post (a mix of curated + original content).
Missinglettr pricing & plans, is it worth it?
So far, in this article on Missinglettr review, I demonstrated how amazing and simple the platform is! The good news is, Missinglettr is very affordable as well. Here's a quick review of pricing and plans, and next I share a few coupons to buy Missinglttr at cheap price-
Missinglettr Free plan
As you can see, there is a forever free version. But it is not good and you can't drive any sustained, significant result from it. Good for people who are only looking to schedule posts on one social channel. Under this plan it is not possible to execute multi-channel social media automation. Also, you can't make use of curate after Trial period under this plan.
Missinglettr Solo plan
Solo version is good for promoting single blogs, and if you do not need excessive post scheduling. Small bloggers should use this. Again like free version, the biggest offering of Missinglettr i.e., Curate functionality is not available under this plan.
Missinglettr Pro plan
Pro is good for enterprises with a marketing team. You can add up to 9 social profiles and add unlimited users to handle your account. You'll have 10 curated posts as well. This is the exclusive (only) plan under which you have Curate functionality. This is the recommended plan for small marketing agencies, small enterprises with their own marketing team, and freelancers who shoulder the responsibility to promote a business, product, or service. Good for multi-channel marketing.
Video posts and stock images are available under solo, and pro plans. Not available under free.

Quote bubble and branding posts are only available for pro plan

Custom fonts, advanced post analytics, and advanced DRIP campaigns are only available under pro plans.
What are the alternative software and tools for Missinglettr?
You can explore Buffer, Hootsuite, MeetEdgar, Agorapulse, CoSchedule, Triberr, Upcontent, Quuu, Curata, Pocket, and SproutSocial as Missinglettr alternatives.
Hope you liked this comprehensive insight on Missinglettr. Let us know about the challenges you are facing in using Missinglettr marketing automation tool.
Missinglettr Coupons
There are two ongoing offers:
That's a full-stop to the Missinglettr review.
Happy marketing!
Summary of
Missinglettr review
On a scale of low (1) to high (10) value and utility, I'll score Missinglettr as 8/10. It's an affordable marketing automation tool and every marketer must have it. Missinglettr curate is great to create social buzz about your presence and build brand authority. But you need to execute it right, with the right strategy. Having a good recipe and good raw-materials is not enough, you need a good chef to cook tasty food.